Mark Hoevenaars Profile
Mark Hoevenaars
I am from

United States
Member since: Sunday, May 1, 2005
Originally born in the Netherlands, I've lived in Orlando, Florida since 2000. I started underwater photography in 2005 with a simple point-and-shoot camera which slowly evolved into a full-blown addiction... errr... hobby. I upgraded in 2009 to a Nikon D90 in an Aquatica AD90 housing. I have two strobes, both Sea & Sea, a YS-250PRO and a YS-110a on Ultralight arms. To assist in focusing I have a Light & Motion Sola 600 Focus light.
My favorite type of UW photography is Macro, because I love to hunt the little critters which brings me to me love of Muck diving. Muck and Macro go hand in hand very well! I shoot a little bit of wide-angle and recently purchased the Tokina 10-17mm Fish-eye which I truly love as well.
Despite all the camera gear I still consider myself very much an amateur who gets a lucky shot once in a while. I play with my manual settings a lot to try out different things. When I'm not diving I spend a lot of time reading up on how to best hone my skills.


U/W photographer
959 point member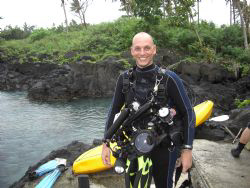 ---
My Portfolio
---
My Contest Stats
I have 68 entries in the photo contest
Latest Entries...
| | | |
| --- | --- | --- |
| entered Sunday, November 11, 2012 | entered Friday, November 4, 2011 | entered Thursday, November 3, 2011 |
---
My Forum Posts
I have 21 forum posts

Recent Forum posts...


My Forum Posts

---