Lisa Hinderlider Profile
Lisa Hinderlider
I am from

United States
Member since: Tuesday, October 25, 2005
I am from Colorado & have been a diver & photographer since 1994.My first camera was a Sea & Sea Motor Marine IIEX with a pair of strobes. I now use a Sea & Sea 8mg with 110a & ys-25 strobes, & have the wide angle lens as well. I have been an aquarist & hobbyist for 25+ years (both salt & freshwater) I find sponges, corals, all creatures & even algae interesting! I believe it is good to "know" your subject!Thanks to those who have voted for my pics.


Medal Winner (annual contest)

Monthly Hotshot

Trusted Member (site moderator)

U/W photographer
4873 point member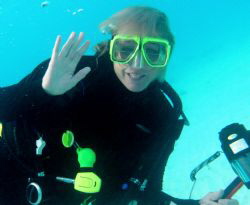 ---
My Portfolio
---
My Contest Stats
I have 247 entries in the photo contest
Latest Entries...
| | | |
| --- | --- | --- |
| entered Friday, November 7, 2014 | entered Friday, January 10, 2014 | entered Wednesday, January 8, 2014 |
---
My Forum Posts
I have 54 forum posts

Recent Forum posts...

Nice!Posted:

Wednesday, July 16, 2014




My Forum Posts

---