Gordana Zdjelar Profile
Gordana Zdjelar
I am from
Serbia and Montenegro (Yugoslavia)
Member since: Wednesday, December 14, 2005
I am an interpreter and writer from Belgrade, Serbia.I have been diving and taking u/w photos for 4 years now. First I used Olympus D-560 and then I enjoyed in an unfortunate Olympus C-7070 for a short while until I drowned it in Mexico. Now Im geared with an Olympus SP 350 and a mj 770 with Olympus housings. I dived in the Red Sea, Mediterranean, Adriatic, Caribbean, Flores, Bali, Andaman sea and Indian Ocean. I publish my photographs and stories about marine life in local magazines.





U/W photographer
482 point member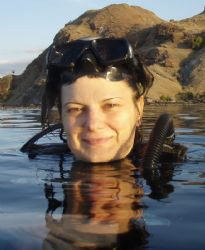 ---
My Contest Stats
I have 101 entries in the photo contest
Latest Entries...
| | | |
| --- | --- | --- |
| entered Wednesday, August 20, 2008 | entered Tuesday, August 19, 2008 | entered Thursday, August 14, 2008 |
---
My Forum Posts
I have 2 forum posts

Recent Forum posts...


My Forum Posts

---