Morgan Ashton Profile
Morgan Ashton
I am from

United States
Member since: Thursday, December 22, 2005
I was certifed in 1985 after getting some money from my mom for college clothing. I spent it on diving lessons. It's only in the last few years, that I've had enough money (or lack of financial sense) to go on the trips I always wanted to. I'm currently taking pictures with a Sea and Sea DX-2G with two YS 110a strobes.


U/W photographer
4313 point member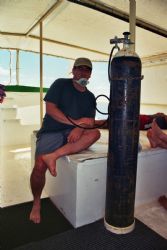 ---
My Portfolio
---
My Contest Stats
I have 131 entries in the photo contest
Latest Entries...
| | | |
| --- | --- | --- |
| entered (Last month) | entered (Last month) | entered Sunday, August 12, 2012 |
---
My Forum Posts
I have 7 forum posts

Recent Forum posts...


My Forum Posts

---