Ray Eccleston Profile
Ray Eccleston
I am from

United States
Member since: Tuesday, December 27, 2005
I began scuba diving in 1976 and have been taking underwater photos since 1996. Two of my recent photos have been on the cover of Underwater Speleology. I use a Nikon D-200 camera, a Ikelite housing, 8" dome port, and DS-125 strobe.


Contest Monthly Winner

Runner up (annual contest)

Trusted Member (site moderator)

U/W photographer

Weekly Judge
6644 point member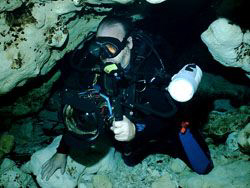 ---
My Portfolio
---
My Contest Stats
I have 93 entries in the photo contest
Latest Entries...
| | | |
| --- | --- | --- |
| entered Monday, April 29, 2013 | entered Sunday, June 28, 2009 | entered Saturday, June 6, 2009 |
| | | | |
| --- | --- | --- | --- |
| Seas I have dived | Number of Entries | Total votes | Average votes |
| unspecified | 53 | 715 | 13 |
| | 40 | 121 | 3 |
| totals | 93 | 836 | 8 |
| | | | |
| --- | --- | --- | --- |
| Countries I have visited | Number of Entries | Total votes | Average votes |
| unspecified | 1 | 4 | 4 |
| | 1 | 2 | 2 |
| Bahamas | 3 | 4 | 1 |
| United States | 88 | 826 | 9 |
| totals | 93 | 836 | 8 |
---
My Forum Posts
I have 11 forum posts

Recent Forum posts...

GinniePosted:

Wednesday, February 17, 2010

NamePosted:

Saturday, November 18, 2006




My Forum Posts

---