Dave Reid Profile
Dave Reid
I am from

United Kingdom
Member since: Monday, January 16, 2006
Started diving as a present to myself for my 41st birthday. Travelled extensively since then diving, and more recently with my new camera, attempting to take that perfect shot. Shoot with a Nikon D70, with Sea and Sea housing and YS-90 strobe.

Recently returned from a 2 week live-aboard trip to Komodo and Alor in Indonesia. Also dived in Australia, Maldives, Dominican republic, Thailand, Spain and some 7 trips to Egypt.



U/W photographer
63 point member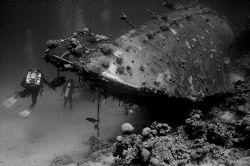 ---
My Contest Stats
I have 5 entries in the photo contest
Latest Entries...
| | | |
| --- | --- | --- |
| entered Tuesday, January 24, 2006 | entered Thursday, January 19, 2006 | entered Wednesday, January 18, 2006 |
| | | | |
| --- | --- | --- | --- |
| Countries I have visited | Number of Entries | Total votes | Average votes |
| Egypt | 3 | 43 | 14 |
| Indonesia | 1 | 6 | 6 |
| Thailand | 1 | 3 | 3 |
| totals | 5 | 52 | 10 |