Arun Madisetti Profile
Arun Madisetti
I am from

Dominica
Member since: Thursday, December 11, 2003
Born young, I began swimming from the age of 3. snorkeling at 5 and diving at 16 and never looked back. Got a Minolta Weathermatic as a present on completing the dive course and imploded it a year later. I've been published in several magazines; some with articles, some without, brochures, fliers, on the web, and some coffee table books. I was the first person from the Caribbean to be showcased at the Hamasat in Taif Saudi Arabia.
Current underwater camera system is now an Ikelite D7200 housing with Inon z220 strobe and D2000 slaves (i'm an Inon Ambassador). I have been a scuba instructor since 1988 first with BS-AC in the UK then switched to PADI. A postgrad marine biologist for longer.
I suppose sperm Whale images are my "thing", its how I make my living as a stills or assistant cameraman . I am a director of Images Dominica with business partner Simon Walsh.


Medal Winner (annual contest)

Monthly Hotshot

Runner up (annual contest)

Trusted Member (site moderator)

U/W photographer

Weekly Judge
7095 point member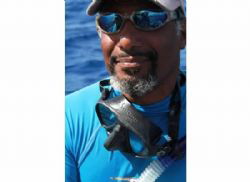 ---
My Portfolio
---
My Contest Stats
I have 375 entries in the photo contest
Latest Entries...
| | | |
| --- | --- | --- |
| entered (This month) | entered (Last month) | entered (Last month) |
---
My Forum Posts
I have 31 forum posts

Recent Forum posts...


My Forum Posts

---