Ugo Gaggeri Profile
Ugo Gaggeri
I am from

Italy
Member since: Monday, January 19, 2004
I am an Physician specialized in Occupational Medicine and, my great passion, dive instructor from 2002. I began to shoot uw photos first with a Nikonos IV, than, in the digital era, with a Sony and a Nikon Coolpix. In 2007 I made the cross over and currently I use a Canon EOS 350D (lens: Canon 60 mm macro and Sigma 12-24 mm) in Fantasea housing with standard port and dome port . Two strobes from Sea&Sea.
My favorite dive sites are in tropical/subtropical area and my Mare Nostrum.


Medal Winner (annual contest)

Monthly Hotshot

Trusted Member (site moderator)

U/W photographer
1253 point member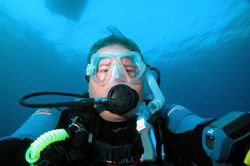 ---
My Portfolio
---
My Contest Stats
I have 133 entries in the photo contest
Latest Entries...
| | | |
| --- | --- | --- |
| entered Monday, February 15, 2010 | entered Wednesday, February 3, 2010 | entered Friday, January 29, 2010 |
---
My Forum Posts
I have 17 forum posts

Recent Forum posts...


My Forum Posts

---