Ken Thongpila Profile
Ken Thongpila
I am from

Australia
Member since: Thursday, July 16, 2009
I am an Australian-Thai, living and working. I have been scuba diving and taking photographs underwater as my hobby since 2003. I uses a Canon 500D with Sea&Sea RDX-500 Housing, INON Z240 Strobes, Tokina 10-17mm Fisheye for my Wide Angle Photography and Canon 100mm Macro L Lens, Canon 60mm Macro Lens, Sigma 17-70 Macro Lens, Kenko 1.4 Teleconverter and Subsee +10 and +5 for my Macro Photography.

My Passion is Macro Photography and my favourite critter is the Nudibranch. I go on overseas diving trips 3-4 times a year and have been diving in Australia , Norfolk Island, Thailand, Vanuatu, Fiji, Hawaii, Malaysia, Philippines, Indonesia, Belgium and Switzerland. My favourite dive site in Australia is Nelson Bay and overseas is Anilao, Philippines.


Medal Winner (annual contest)

Monthly Hotshot

Trusted Member (site moderator)

U/W photographer
1145 point member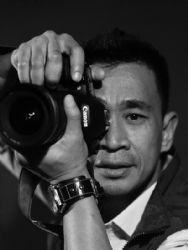 ---
My Portfolio
---
My Contest Stats
I have 35 entries in the photo contest
Latest Entries...
| | | |
| --- | --- | --- |
| entered Monday, March 31, 2014 | entered Monday, March 31, 2014 | entered Sunday, March 23, 2014 |
---
My Forum Posts
I have 48 forum posts

Recent Forum posts...


My Forum Posts

---