Richard Rigby Profile
Richard Rigby
I am from

United Kingdom
Member since: Friday, May 28, 2010
Cannon G11 - YS110 Strobe - From UK currently living in Indonesia.
Fave dive sites - All of Bali's - Shab Rummi - Sudan, Tayong Barge - Aquba and Scapa Flow UK.


U/W photographer
40 point member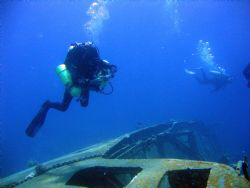 ---
My Contest Stats
I have 2 entries in the photo contest
Latest Entries...
| | |
| --- | --- |
| entered Saturday, May 29, 2010 | entered Friday, May 28, 2010 |
| | | | |
| --- | --- | --- | --- |
| Countries I have visited | Number of Entries | Total votes | Average votes |
| Indonesia | 2 | 27 | 13 |
| totals | 2 | 27 | 13 |