Tony Cherbas Profile
Tony Cherbas
I am from

Guam
Member since: Friday, November 19, 2010
I started diving in 2008 and have been taking photographs underwater since 2010. I mainly shoot with a Canon 7d mk 2 in a Nauticam housing with two Inon Z240 strobes. My style has evolved over the years and my favorite kind of image to create lately has been CFWA with the Canon 8-15mm lens. I have traveled all over SE ASIA and continue to return. I currently live in Kauai, Hawaii.


Contest Monthly Winner

Medal Winner (annual contest)

Monthly Hotshot

Runner up (annual contest)

Trusted Member (site moderator)

U/W photographer

World Champion
15614 point member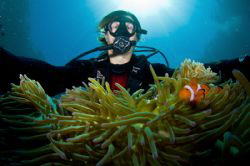 ---
My Portfolio
---
My Contest Stats
I have 612 entries in the photo contest
Latest Entries...
| | | |
| --- | --- | --- |
| entered (last week) | entered Monday, February 27, 2017 | entered Thursday, February 23, 2017 |
---
My Forum Posts
I have 191 forum posts

Recent Forum posts...

Hmmm...Posted:

Sunday, March 26, 2017

Hotshot!Posted:

Sunday, January 29, 2017




My Forum Posts

---