John Roach Profile
John Roach
I am from

United States
Member since: Sunday, March 6, 2011
Use a Nikon D80 w/sea+sea housing, twin YS110 strobes. Have been diving since 1985. I was a critter guy before (I found everything rooting around in the shallows with a magnifying glass). I had a 1000 dives before I started lugging the camera around, found a clingfish on a night dive in Bio-Luminesence Bay P.R. and decided right there I needed a camera. Shooting for about 5 years now. Dive mostly in the carib. Spend most of my time in Bonaire, south end of Bonaire is my favorite, but it is all good!


Medal Winner (annual contest)

Monthly Hotshot

Runner up (annual contest)

Trusted Member (site moderator)

U/W photographer

Contest Monthly Winner
6273 point member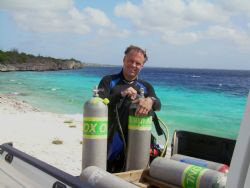 ---
My Portfolio
---
My Contest Stats
I have 282 entries in the photo contest
Latest Entries...
| | | |
| --- | --- | --- |
| entered (5 days ago) | entered (6 days ago) | entered (last week) |
---
My Forum Posts
I have 140 forum posts

Recent Forum posts...


My Forum Posts

---