Taner Atilgan Profile
Taner Atilgan
I am from

Turkey
Member since: Wednesday, February 1, 2012
I'am a Turkish construction management professional who was born in 1983, After living for 15 years in Istanbul, recently I moved to Dubai with my family.
I started diving in 2008 and caught up in underwaterphotography since 2011. Afterwards, I had become national champion of uwp for 2 times and I'm still a member of Turkish national uwp team.
Nowadays I'm using Nikon D7200 with a Nauticam system and Ikelite strobes.


Contest Monthly Winner

Medal Winner (annual contest)

Monthly Hotshot

Trusted Member (site moderator)

U/W photographer
7526 point member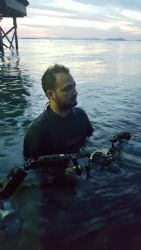 ---
My Portfolio
---
My Contest Stats
I have 287 entries in the photo contest
Latest Entries...
| | | |
| --- | --- | --- |
| entered Yesterday | entered Yesterday | entered (4 days ago) |
---
My Forum Posts
I have 12 forum posts

Recent Forum posts...

coolPosted:

Wednesday, November 26, 2014




My Forum Posts

---