Jim Machinchick Profile
Jim Machinchick
I am from

United States
Member since: Friday, April 24, 2015
I have been passionate about the oceans for my entire life. Recently started shooting DSLR in April of 2014 and am looking for continuous improvement. My favorite subjects are hands down sharks, and if my pictures can create awareness to just one person about conservation, that's all that matters!


Medal Winner (annual contest)

Monthly Hotshot

Runner up (annual contest)

Trusted Member (site moderator)

U/W photographer
274 point member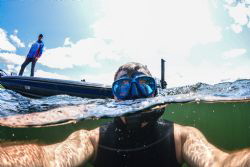 ---
My Portfolio
---
My Contest Stats
I have 14 entries in the photo contest
Latest Entries...
| | | |
| --- | --- | --- |
| entered (Last month) | entered Friday, January 13, 2017 | entered Monday, January 9, 2017 |
| | | | |
| --- | --- | --- | --- |
| Countries I have visited | Number of Entries | Total votes | Average votes |
| Bahamas | 8 | 101 | 12 |
| United States | 6 | 86 | 14 |
| totals | 14 | 187 | 13 |
---
My Forum Posts
I have 1 forum posts