Uwe Michaelis Profile
Uwe Michaelis
I am from

Germany
Member since: Friday, June 21, 2019
I am Uwe from Germany, started diving around 18 years ago and still have the same fascination for the ocean as on the first time diving.
Since around 8 years I am focusing on UW Photography and Videography. Beause I travel a lot, I always wanted to have light uw camera gear, the Sony RX100 M4 with a Nauticam housing totally convinced me.


U/W photographer
34 point member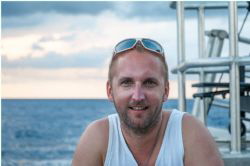 ---
My Contest Stats
I have 1 entries in the photo contest
Latest Entries...


entered Friday, June 21, 2019
| | | | |
| --- | --- | --- | --- |
| Category | Number of Entries | Total votes | Average votes |
| Sharks | 1 | 6 | 6 |
| totals | 1 | 6 | 6 |
| | | | |
| --- | --- | --- | --- |
| Seas I have dived | Number of Entries | Total votes | Average votes |
| Red Sea | 1 | 6 | 6 |
| totals | 1 | 6 | 6 |
| | | | |
| --- | --- | --- | --- |
| Countries I have visited | Number of Entries | Total votes | Average votes |
| Sudan | 1 | 6 | 6 |
| totals | 1 | 6 | 6 |