Dania Aziman Profile
Dania Aziman
I am from

Malaysia
Member since: Wednesday, September 11, 2019
Hi I am Dania, I have a passion for green living and ocean conservation. My aim is to educate my community about the damage we are doing to the marine ecosystem by presenting the photos and videos of my diving trips to my friends and let them understand what they need to protect.

I am currently using a D7200, TG5 and a Gopro7.


U/W photographer
28 point member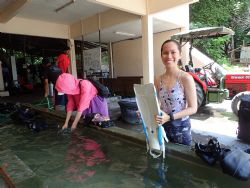 ---
My Contest Stats
I have 1 entries in the photo contest
Latest Entries...


entered Wednesday, September 11, 2019
| | | | |
| --- | --- | --- | --- |
| Seas I have dived | Number of Entries | Total votes | Average votes |
| South China Sea | 1 | 3 | 3 |
| totals | 1 | 3 | 3 |
| | | | |
| --- | --- | --- | --- |
| Countries I have visited | Number of Entries | Total votes | Average votes |
| Malaysia | 1 | 3 | 3 |
| totals | 1 | 3 | 3 |