A monthly hotshot is an entry that was shortlisted by 2 or more judges. The monthly winners (1st, 2nd, 3rd and Runner Ups) are chosen from this short list by our editor (no medals, just your name in the lights for a month!). They are chosen according to the number of judges votes with some reference to the peoples votes and the editor's choice. It is no coincidence that many of the Hotshots end up in the annual awards!
To get a chance to feature your photo in next month's winners, enter your best underwater photo here.
The monthly winners for August have been announced. Thank you all for entering and Congratulations to the winners and runners up!
Check out August's well deserved winners:
1st Place: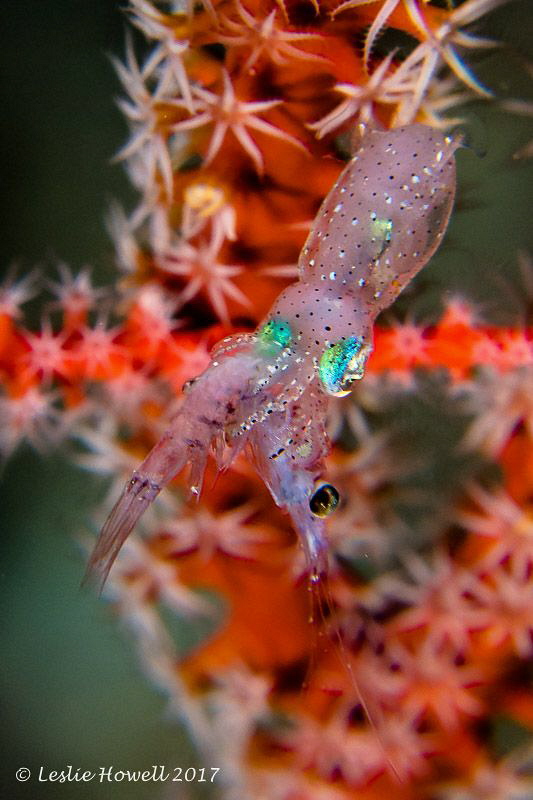 Pygmy squid bringing home the bacon.
Editor's Comment:
Incredible macro shot capturing just the right moment
In Category: Macro – Close-Up | Taken in: Indonesia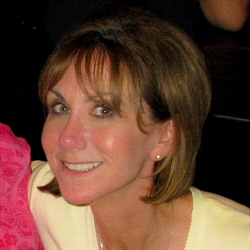 Leslie Howell
I'm Leslie from Illinois. I prefer warm water with colorful subjects to shoot. I finally upgraded to a DSLR camera and I'm only sorry that I waited so long. Shout out to Marco Fierli at Wakatobi – who is a talented photographer and instructor!!!

Full Profile
2nd Place:
Wobbegong with a Porcupine Puffer lodged in its mouth
Editor's Comment:
Perfect moment, perfect angle and perfect light; an unbelievable shot
In Category: Sharks | Taken in: Aruba
Mark Gray
Nikon D7000 in Aquatica AD7000 housing with dual Ikelite Ds161 strobes. My favourite dive site is my Local Dive site of Julian Rocks, Byron Bay, Australia

Full Profile
3rd Place: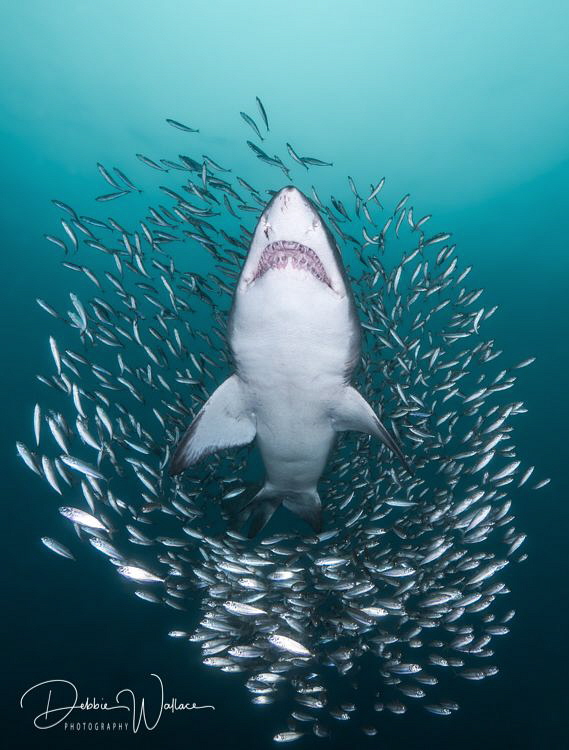 "Out of the pack" – I really had this image or something very similar to it in my mind during this particular dive with the sand tiger sharks, when I turned my head to see it in actuality!! Lucky me!!
Editor's Comment:
Wonderful wide angle shot with great lighting and composition
In Category: Sharks | Taken in: United States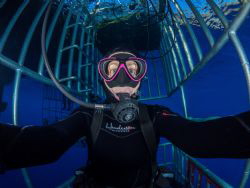 Debbie Wallace
Hi! I'm Debbie, from Naples, FL. I've been diving a long time but have been doing underwater photography for about 4 years. My favorite underwater subject is SHARKS!! They are so misrepresented in the media, and I'm doing what I can to dispel some myths. I also shoot macro but sharks are a real passion for me!

Full Profile
Runner Up: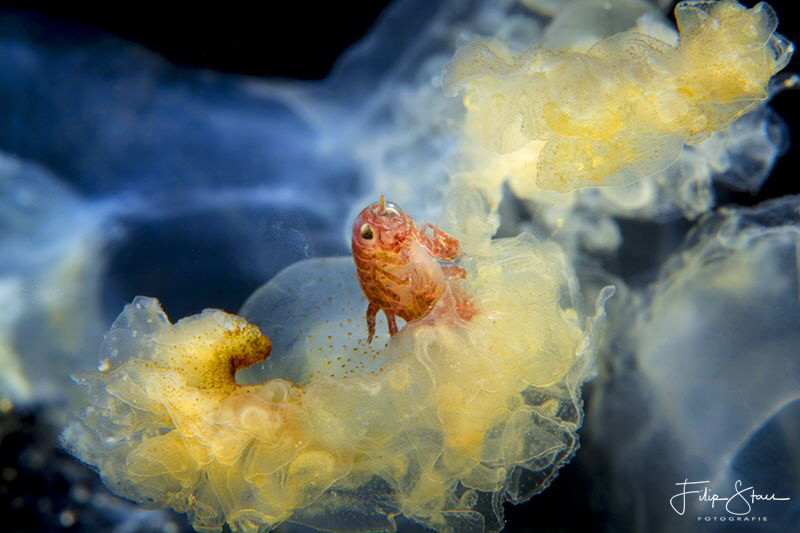 A Big-eye amphipod (Hyperia galba)living inside a Compass jellyfish(Chrysaora hysoscella)
Editor's Comment:
Great focus and colors
In Category: Macro – Super macro | Taken in: Netherlands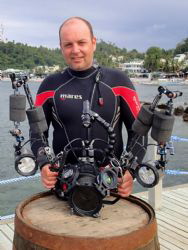 Filip Staes
I started diving in 1992 and photography became a part of my life around 1997. I made my first underwaterphotos in Sharm El Sheikh with a rented Nikonos. In 2000 I began competing in underwater photography contests. After 25 years in the water I'm still addicted to the underwaterworld. I photograph with a Nikon D7100 in a Hugyfot housing. I hope you enjoy my photos as much as I do 😉

Full Profile
Runner Up: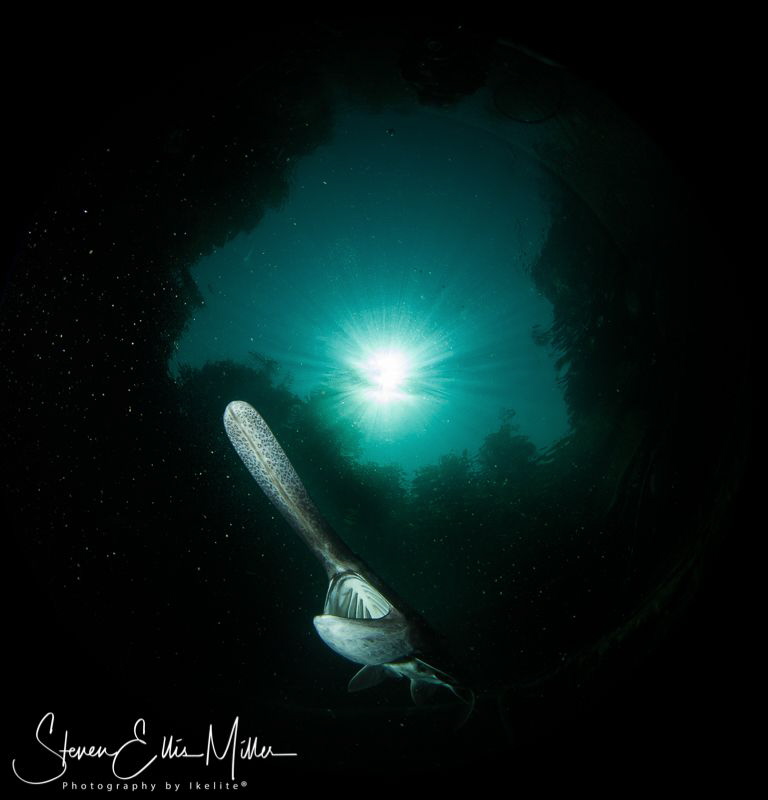 The sun here is at 91% Totality during the Eclipse.. not a big difference, but fun to try.
Editor's Comment:
A very rare shot during the eclipse, loving it
In Category: Freshwater | Taken in: United States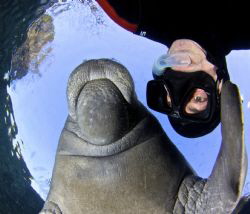 Steven Miller
I've been shooting since 1976, and currently use a Canon SL-1, Eos 50D, and a Canon 5D Mark2 camera, with Ikelite housings and strobes. Wakatobi is my favorite place to dive, but I enjoy shooting in my Natural swimming pool in Ohio too. I am a contributing writer/photographer to Blue Magazine, a Guest Experience Manager for Wakatobi Dive Resort, and an Ambassador for Ikelite Underwater Systems.

Full Profile
Runner Up: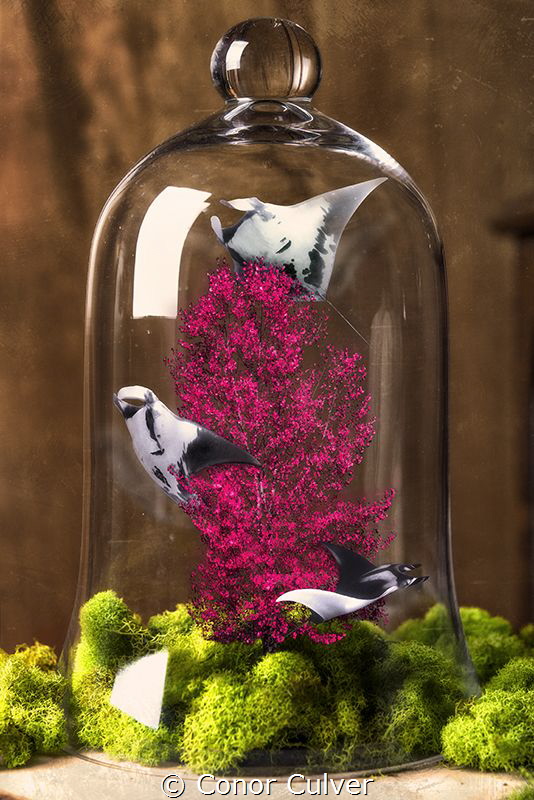 "Manta Terrarium" part of my Underwater Surrealism body of work
Editor's Comment:
Very creative composition, where did you get flying mini mantas and how did you put them in there?
In Category: Creative – Manipulated (Photoshopped) | Taken in: Mexico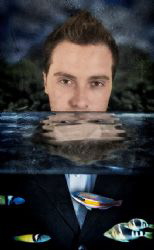 Conor Culver
Forever intrigued with art's ability to challenge senses of reality, Conor Culver combines photography and digital design to create captivating surrealist images. Born and raised in the colorful state of Colorado, Conor is a graduate of The University of Colorado Denver with a B.F.A. focusing dually on photography and digital design.
Conor was first drawn into the hidden wonders of the sea after earning his scuba certification at the age of 12. His journey with photography began soon after as he began to capture an underwater world; a place that still influences him today. After exploring the allure of fine art photography in college, Conor began to blend different images together both in photoshop and in the darkroom, experimenting with various methods. His haunting collection 'Characters We Used to Know' and the enchanting 'Underwater Surrealism' highlight the dreamlike realities he creates, using both digital photography and the darkroom.

Full Profile
---
Need advice on underwater photography gear?
Contact us at Mozaik Underwater Cameras. We also provide an online chat service almost 24/7 to answer almost any question regarding cameras, housings, strobes, lights, accessories and more…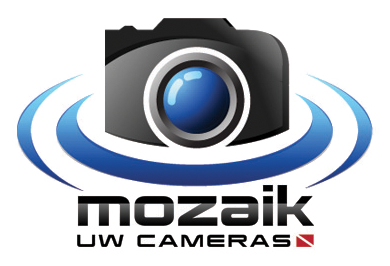 ---

I am 31 years old, diving since I was 15 and shooting underwater in the last 6 years. I am the Co-Founder of Mozaik Underwater Cameras , one of the leading underwater photography stores in the world.

I am originally a web developer and programmer and specialize in Internet marketing.

In the past 6 years, I dived in many places: Red Sea, Mediterranean, Florida, Bahamas, Turks and Caicos and others.. I was lucky enough to dive with all the latest equipment, that includes high end compacts, Mirrorless, DSLR's, almost every strobe in the market and many different lenses and accessories.
I helped and advised thousands of underwater photographers from beginners to the most professional.