Switch DV camera to VCR mode
The DV camera needs to be in playback (usually labeled VCR or VTR on the camera) mode to record your movie from your computer to DV tape.
The following illustration shows a typical control on a DV camera that is used to switch the camera between camera mode and playback mode.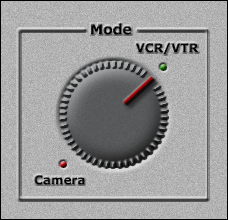 To fix the problem, do one or more of the following, and then try again:
Verify that the DV camera is powered on and in playback mode.
Verify that the DV device is connected properly to your computer using an cable.
Switch the DV camera off for a few seconds and then on again to playback mode.
Related topics
---